Phonak Marvel
Connects to smartphones, TV and other bluetooth enabled devices
Rechargeable models are available
Connects to the myPhonak app
Contact Us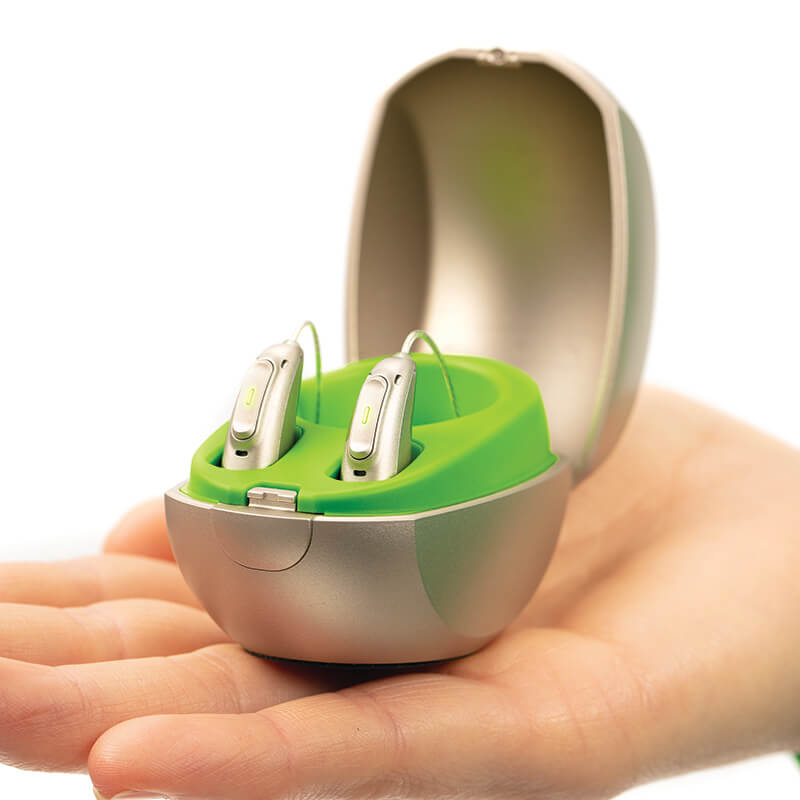 Starkey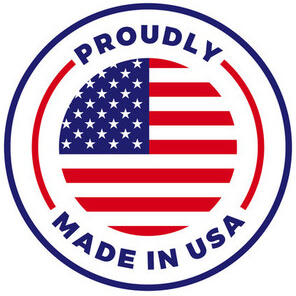 ---
---

Livio™ AI is the world's first hearing aid to provide both superior sound quality and the ability to track body and brain health. Featuring integrated sensors and artificial intelligence, Livio AI redefines what a hearing aid can do.
Contact Us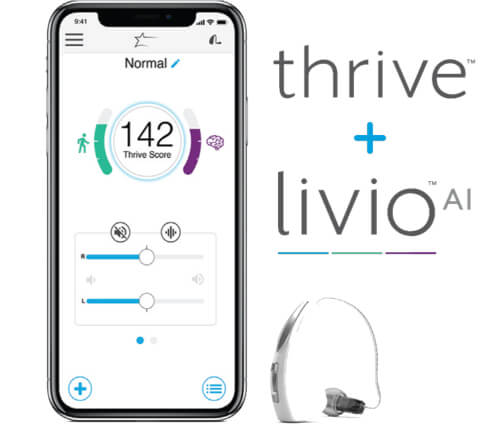 ---
Livio Ai
The world's first hearing aid that monitors brain and body activity, can detect if you've fallen and send an alert to selected contacts. Using integrated sensors and artificial intelligence, Livio® AI is a multipurpose device that redefines what a hearing aid can do. Most fitness tracking devices use the wrist, but the ear provides far more accurate data1 – in fact, it's the ideal spot for reliable tracking, and Livio AI is the first-ever device to take advantage of that. Discover Livio AI At Starkey® , we're reinventing the hearing aid Livio AI also features easy tap control and can translate up to 27 languages. Our voice-controlled Thrive® Assistant can answer questions about your hearing aids. And if that's not enough, it's also our best sounding and best performing hearing aid ever.
Rechargeability - Rechargeable hearing aids: smart, convenient, reliable Livio AI hearing aids are the first rechargeable hearing aids enhanced with integrated sensors, artificial intelligence and Healthable technology. • Delivers up to 24* hours of superior hearing on one charge. • Holds enough charge to provide portable charging three times. • The only lithium-ion rechargeable Receiver-In-Canal hearing aids with telecoil, making them compatible with sound systems often found in places with lots of background noise, such as a church or lecture hall.
Read More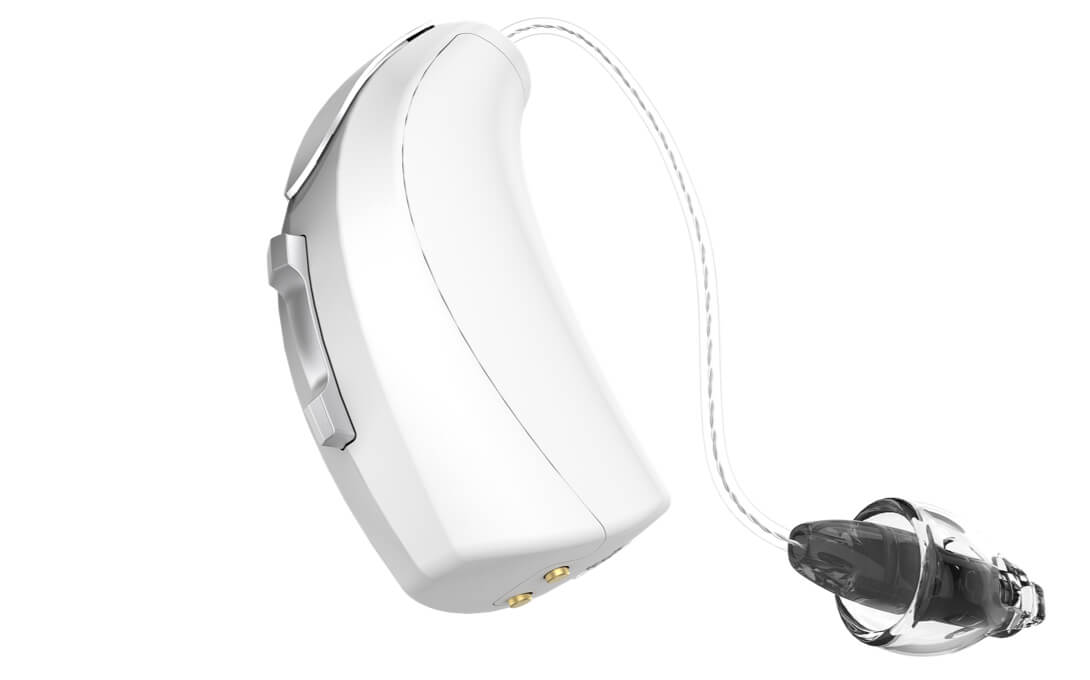 ---
Livio Edge Ai
With Livio Edge AI, the power of artificial intelligence is at your fingertips, giving you never-before-possible sound performance in the most challenging listening environments.
Choose from a standard rechargeable style — or the world's first custom rechargeable hearing aid — and give yourself the edge you deserve!
Read More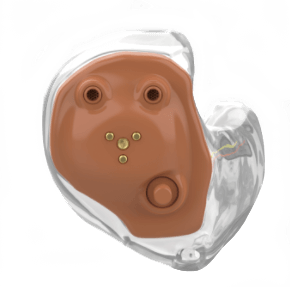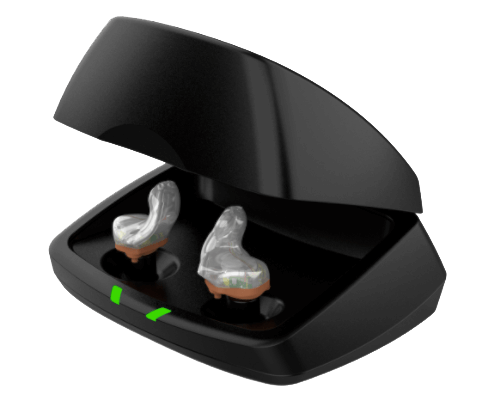 ---
The world's first custom-molded rechargeable hearing aids give you discreet, comfortable and convenient options.
---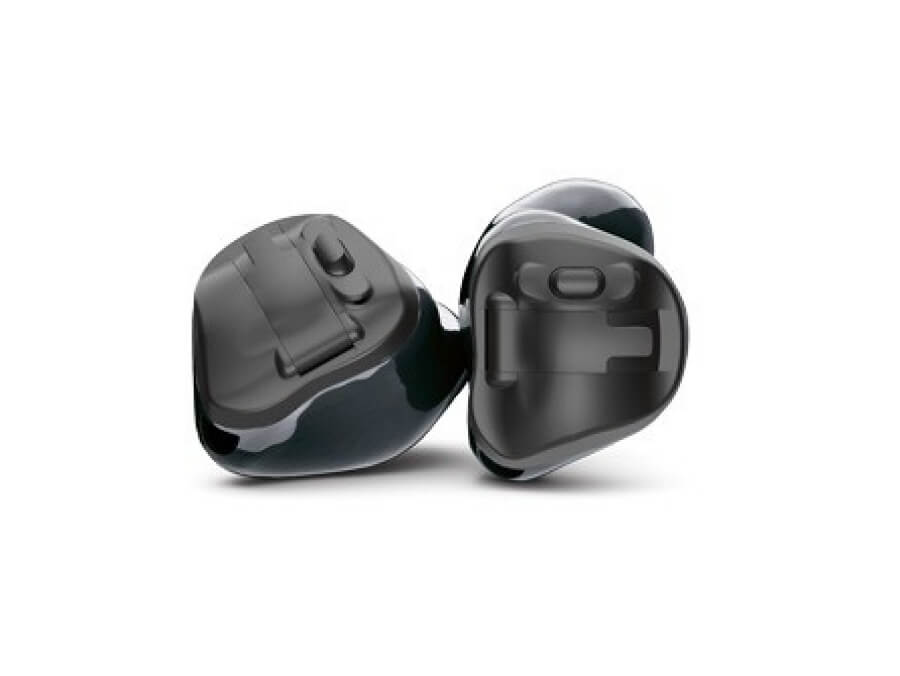 Phonak Virto Marvel
Phonak Virto M-312 hearing aids connect directly to either your iOS or Android smartphone or other Bluetooth® enabled devices. Use them for hands-free calls, TV, music, e-books, podcasts and so much more.
With over 1600 data points Biometric Calibration takes your individual ear anatomy into account. Each Virto hearing aid is then custom-made to provide a perfect and discreet fit and high wearing comfort.
Read More
Table Microphone
Designed for group settings like meetings, family gatherings or noisy restaurant environments. Place it in the center of a table and it will utilize the eight built-in microphones to determine the primary speaker's voice and stream it directly to your hearing aids.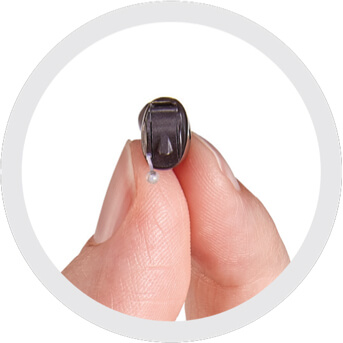 ---
Picasso
Picasso offers an immersive and impressive listening experience and features Starkey's superior sound enhancement system. Hearing aid customization means creating a one-of-a-kind hearing aid that fits your exact ear anatomy for optimal comfort and performance. No two ears are alike, and that's why we were the first to offer customization and are still the leaders in custom solutions today. Starkey is the world's most experienced and qualified manufacturer of custom products. Our custom product team includes more than 800 people directly involved in engineering, building and delivering custom products. And they're committed to creating unique, comfortable, customized hearing aids specifically for you. We're excited to introduce our newest custom hearing aid, Picasso. You'll enjoy amazing comfort and performance, and full compatibility with our SurfLink® products for carefree connectivity and control.
Read More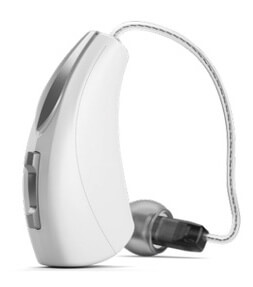 ---
Livio
With Livio, you'll enjoy supreme sound clarity, comfort and universal connectivity. Thanks to innovative technology we call Hearing Reality™, Livio is designed to be effective in the noisiest environments. In fact, a recent independent study gave Livio hearing aids the top rating compared to other manufacturers' premium devices for reducing background noise in noisy listening environments.1 You'll be able to hear speech more comfortably, even in a busy restaurant or coffee shop, while unwanted noises will be suppressed. Hearing Reality is a new standard in clarity and comfort Livio hearing aids work seamlessly with accessories and your favorite digital devices to help you connect to your world, and to: • Deliver superior sound quality, listening clarity, more natural hearing and effortless transitions • Preserve peace and quiet while amplifying important sounds so you can better understand conversations • Stream phone calls, music and messages directly from your smartphone to your hearing aids • Offer remote programming so your hearing professional can make minor adjustments without an office visit.
Read More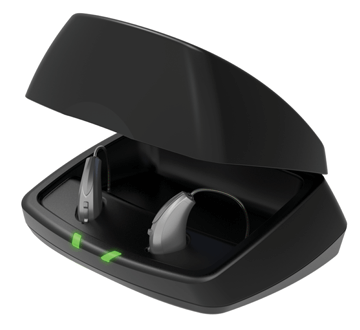 ---
Rechargeable Hearing Aids
With rechargeable solutions, you can avoid the hassle of disposable batteries.
Rechargeable hearing aids are currently available in most standard hearing aid styles — BTEs and RICs. If you're interested in rechargeable hearing aids, ask your provider about available systems.
Considerations:
No changing batteries — Rechargeable hearing aids ensure you do not have to deal with changing batteries, which can be a difficult and tedious task, especially for those with dexterity concerns.
Continuous use — Technology has reached the point where hearing aids can be charged once per day. Both the Starkey and Phonak rechargeable systems, you can get up to 24 hours of use with 1 hour of streaming, or 22 hours of use with 4 hours of streaming on a full charge.
Easy charging — Just drop the hearing aid(s) into the charger while you sleep (overnight is recommended). The charger will automatically shut off when the aids are fully charged. You can store your hearing aids in the charger even when they are fully charged.
Environmentally friendly — Over three years, two hearing aids will use more than 300 disposable hearing aid batteries. In the same conditions, only two rechargeable batteries would be used.
Starkey also provides a mini turbo charger that is pocket
sized and provides 3.5 hours of use in just seven minutes.
A fully charged Mini Turbo Charger can completely
charge a pair of hearing aids four times.
Read More